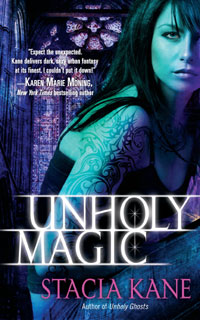 Unholy Magic is the second book the Unholy Series by Stacia Kane. It was published on July 6, 2010.
In a world where the dead haunt the living, Chess Putnam must hunt down the vicious ghosts as well as debunk rumors of false hauntings. But now she has a new assignment--tracking down a ruthless killer who has been murdering prostitutes.
Ad blocker interference detected!
Wikia is a free-to-use site that makes money from advertising. We have a modified experience for viewers using ad blockers

Wikia is not accessible if you've made further modifications. Remove the custom ad blocker rule(s) and the page will load as expected.