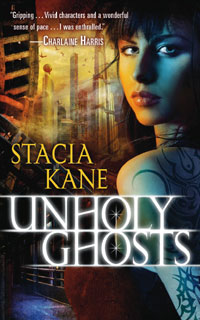 Unholy Ghosts is the first book in the Unholy series by Stacia Kane. It was published on May 25, 2010.
Unholy Ghosts is set in a world where the government has fallen, and the dead have risen and constantly attack humans. The Church of Real Truth promises to protect the living from the dead. Because the Church offers to reimburse those injured or harassed by the dead, people claim false hauntings to profit.
Chess Putnam, the main character of the series, is a witch and ghost hunter. She can detect lies, and knows which humans are actually being attacked and which are making it up for money. However, along with her immense talents, she must cope with the fact that she owes a drug dealer, named Bump, a great deal of money.
It would be possible to pay him back, so to speak, by unleashing a vicious group of the dead, but Chess Putnam must deal with her immense attraction to his boss as well as his rival gang leader. In addition, this job requires a human sacrifice and black magic. Is it worth it?
Ad blocker interference detected!
Wikia is a free-to-use site that makes money from advertising. We have a modified experience for viewers using ad blockers

Wikia is not accessible if you've made further modifications. Remove the custom ad blocker rule(s) and the page will load as expected.