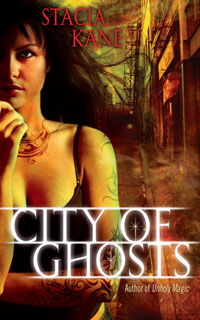 City of Ghosts is the third book in the Unholy Series. It was published on July 27, 2010.
When more human bodies pile up, presumably the victims of the undead, Chess Putnam has to team up with the Black Squad agency to solve the crime. However, she is under a binding spell that will kill her if she tells anyone about the investigation. When Chess discovers that the best source of information is a street vendor who refuses to tell her anything, things only get more complicated.
Ad blocker interference detected!
Wikia is a free-to-use site that makes money from advertising. We have a modified experience for viewers using ad blockers

Wikia is not accessible if you've made further modifications. Remove the custom ad blocker rule(s) and the page will load as expected.