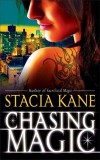 Chasing Magic is the fifth book of the Unholy series by Stacia Kane. It was published on June 26, 2012.
As a drug addict, Chess Putnam has always relied on the quality of her drugs. But someone has started tampering with them, and drug users are falling dead all over. To make matters worse, Chess must deal with the love triangle she is surrounded by--caught between Lex and Terrible.
Ad blocker interference detected!
Wikia is a free-to-use site that makes money from advertising. We have a modified experience for viewers using ad blockers

Wikia is not accessible if you've made further modifications. Remove the custom ad blocker rule(s) and the page will load as expected.